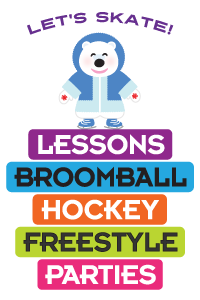 ADMISSION – includes skate rental
$10 – All days, skate rental included!

$8 – Seniors and military

$8 – Pond hockey* M/W & Broomball* TH (*Kids 18U)
$15 – Pond hockey or broomball + stay & skate public session
FREE – age 3 and under
last updated January 29, 2020
PUBLIC SESSIONS
Monday-Friday, 3-10pm*
Saturday, 2-midnight or 10pm**
Sunday, 10am-10pm*
*Sunday-Friday, sessions may end at 9pm if rink is rented for broomball.
**Saturday session ends at 10pm if rink is rented for broomball.
POND HOCKEY 18&U
M/W, 5pm and 6pm
BROOMBALL 18&U
TH, 7-8pm
FREESTYLE
Saturday, 8-9:30am
STICK TIME
Sunday, 8:15-9:45am
SKATING ACADEMY
Sunday, 11:15am-12:45pm
Tuesday and Thursday, 5:15-6:45pm
Saturday, 10-11:30am
EXTENDED HOLIDAY HOURS
Open 10am-10pm
November
Thanksgiving:
Monday, November 25 – Sunday, December 1
December
Holiday Vacation:
Saturday, December 21 – Sunday, January 5
Open Christmas Eve – 10am-10pm
Open Christmas Day – 12-6pm
Open New Year's Eve – 10am-10pm
Open New Year's Day – 10am-10pm
January
MLK Day: Monday, January 20
February
Presidents Day: Monday, February 17
CHECK THE CALENDAR!
Hours and schedule vary slightly throughout the season.